Welcome to Our Site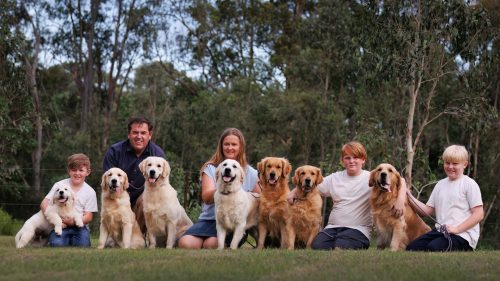 News: 2022 has ended on a high. We spent New Year at a dog show, spending time with our family, show team and friends.  We are excited to say we are hoping to breed a litter or 2 early this year, be sure to check back in soon. 
Goldivine Golden Retrievers, newly Established in 2020.
Situated on the Sunshine Coast, on a beautiful 10 acre horse property in the fertile Mary Valley, Queensland.
From Breeding and Showing our Divine Miniature Horses for the last 14 years, we have now started in the world of dog shows. Entering the show ring for the first time in 2017, with our gorgeous bitch Stella ~ Kaparla Sing With One Voice. Followed soon after by Mara ~ Kaparla Committed No Crime. (AI)
We are very fortunate to have amazing foundation stock from well established long term breeders Heather Morrison of Kaparla Goldens (TAS) and Karen Vowell of Alubyc Goldens (QLD) incorporating amazing Australian and imported blood lines.
Our aim is to breed great conformation, excellent quality and healthy Golden Retrievers to show and for families to enjoy. A fabulous temperament is a must. Our dogs are raised in our home with 3 boys. All pups will be well socialised and handled by children.
We only breed from health tested quality Goldens registered with ANKC. Hips/Elbows/Heart/Eyes & full DNA profiles done.
We are current members of Dogs Queensland and The Golden Retriever Club of Queensland.